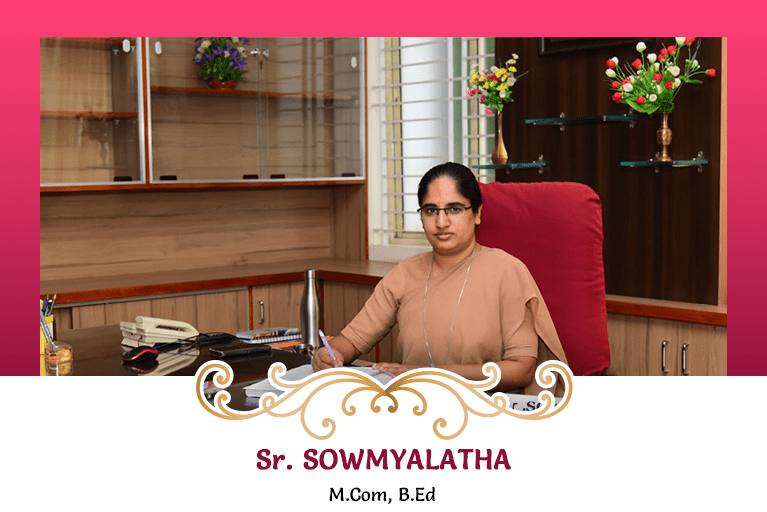 "Education is the most powerful weapon which you can use to change the world." – Nelson Mandela.
Education is the manifestation of love and my most cherished possession. Education drives away ignorance and through illumination it emboldens a learner to a righteous thought and action. It empowers and enlarges the horizon of their mind. It energizes a society and enables them to earn their living with respect and praise. Hence my love for it.
I greatly rejoice and proudly place on record the fact that as a Catholic and Carmel Educational Institution, we try to promote holistic development of students based on the integral vision of human person and the entire creation. The management and staff are faithful to the spirit of our Foundress, Mother Teresa of St. Rose of Lima. We work together for the common goal of shaping young people into citizens, worthy of God and worthy of our Nation and the World.
All odds, all challenges and all handicaps of life can be overcome with strong determination, persistent hard work, insurmountable tenacity. Carmel girls' composite P U college intends to nurture the shelved potential in students by providing an ideal platform for them to channelize their creative outbursts and lend expression to their thoughts and views on various aspects in serene manner. It's no wonder that so many students come to Carmel to find their success.
While I enjoy speaking of our success in the last ten years, I have no doubt we will continue to do great things, by providing new combinations, job oriented certificate courses added towards the growth of the college.  It makes me proud to see the Stars of Carmel shining in different fields with their achievements and success. Hence by providing hands-on learning opportunities and facilitating lifelong ties the students who leave us will always consider Carmel as a place to return home.
I bestow God's abundant blessings on every student, parent and faculty members who is, was and will be a part of Carmel P U College, Mandya.
Thank you. Let's have a great year together.