When I sit to write this, i was so excited to recall my memories.  The first day of my college, I still remember, am entered the class with full of tens and fearful heart.  As we was new to this college, we felt school was best but as the days pass on all become so close to each reason we never felt shy and we shared everything with them.  They never felt angry they thought us everything like the lessons, moral values, discipline and so on.  So they become our strength.  There is a famous saying "Don't look for someone who will solve your problems, look for some who won't let you to face them alone".  They never let us face the problems alone.  They were just like our 2nd parents.  To say in modern words, "They were our mobile data and we are only the Wifi, it means that without mobile data and we were only the Wifi, it means that without mobile data that is the teachers, our system never works.  In each and every step they have guided us, strengthened us and motivated us.  They helped us to adventure our skills and talents, which we have in our self, did not know and remained our goals during each and every step.  Once incident which i could never forget that is, our last year send-off, which led to the division of our whole class.  At that time they solved our problems so patiently and gave the Guidance and then they united the whole class.  They are our role models.
  Coming to our beloved principle Sr. Sowmyalatha.  Sister is very friendly, she encourages for each and every competitions.  She brought a unique change in our college with her creative thoughts and ideas.  She brings us to the right path when we are goes wrong.  Her determination and dedication towards work will always inspire us.  The special and my favourite character of sister is that she is an effective and efficient motivator.  As soon as we hear her speech there would be drastic change among my classmates.
   Our college is like "Pizza box, it comes in square box, yet when opened it, it's round and when you start eating it, it's triangle ".  It seems just two years, but we will take these memories throughout our life.  It was very mesmerized.  Teachers were the Gardeners they have planted us, given sunlight and watered us for our survival.  So I thank god for making me to study in this college.  Finally I would say "Carmel Girls' Composite P U College " is the Best College for girls with 100% safety, good infrastructure, Education, Good Environment and with all much more comforts.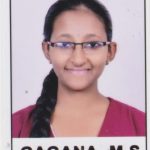 Gagana M S (2018-2019)Commerce Department